Farmers quick to capitalise on spike in wheat futures - Basis PLUS
Sarah McGrath, AWB
Farmers have been quick to respond to the recent rally in 2019 wheat futures by locking in forward contracts for their 2019 crop. The peak of just over $290 per tonne on the Chicago Board of Trade is close to many growers' marketing price targets and they seized the opportunity to secure this price.
While it may seem risky to lock in a price for a future crop it can be a sound way to manage risk and get some certainty of your future revenue streams. Growers familiar with using price risk products typically lock in the price of between 10%-20% of their crop 18 months out from harvest, giving them more control over crop prices and reducing their exposure to price volatility.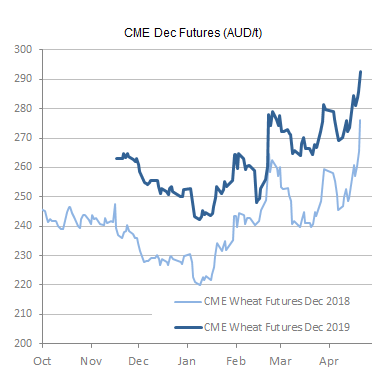 May to July is a particularly active time for locking in forward contracts as wheat futures tend to be more volatile during these times because of uncertainty over spring US weather patterns and production estimates. If growers are quick, they are able to turn this volatility to their advantage and lock in contracts when prices spike.
Forwarding marketing can be complex. We try to make it as easy as possible through our price risk management tools. A popular tool with growers is our AWB Basis PLUS contract – which is a unique product that allows growers to fix basis and futures prices separately and in any order.
We manage the transaction on the futures exchange and look after the foreign exchange risk on the growers' behalf. There is no need to access funding to support the futures position or have a line of credit with a financial institution. The cost to the grower is a flat dollar per tonne fee.
Growers are increasingly thinking holistically about their marketing and developing a long term plan. We work with our customers to understand their marketing objectives - including their production plan and price targets. If we know their target marketing price, we can alert the grower when wheat futures reach those levels and give them the option to lock in part of their future crop at those prices. This saves them having to watch the futures market daily.
I have been working with growers to help them managing their price risk for about ten years and there is no doubt, these types of marketing tools are becoming more popular with the number of growers registering with us increasing every year. There are few other tools that provide growers with options to manage their price this far out which is why the Basis PLUS is attractive to so many and is worth considering as part of any marketing plan.
For more information on AWB Basis PLUS, Click here
For more information on AWB PRICE+ Risk Management or to register click here:
Originally published May 2, 2018
Basis PLUS is issued by Cargill Australia Limited ABN 42 004 684 173, Corporate Authorised Representative 410006 of Cargill Australia Financial Services Pty Limited ABN 24 103 594 823, AFSL 393967 (trading as AWB, "AWB"). This document does not take into account your objectives, financial situation or needs. It is important for you to consider these matters and read the Product Disclosure Statement (PDS), any updated PDS, the Financial Services Guide and any general and special terms and conditions that may apply to Basis PLUS before you decide to acquire the product. You can get a copy of the PDS by calling 1800 659 944.
AWB Grower Service Centre - 1800 447 246