AWB Season Starter Pool
Welcome to AWB Season Starter Pool
Click here to get started with AWB Season Starter
The Season Starter Pool is AWB's early season pool offered around the time of planting and is run over a 12 month period. The pricing mandate in place for the Season Starter Pool is designed to capture pricing opportunities from the time you commit to the program and to ensure that the manager can participate in marketing opportunities across the pricing window. The Season Starter Pool objective is to outperform average cash values across the marketing window.
Reasons to choose Season Starter
Proven performance against best bid cash price
Access to immediate cashflow with the production advance program

*eligibility criteria applies

A Guaranteed Minimum Return set at 85% of contracting EPR
Capped site to port costs
Choose from three different cash-flow and payment options
Participation in local and global market opportunities
Leveraging global networks with our local experience
Access to transparent monthly reporting for the pricing mandate
View Season Starter Pool returns by accessing the AWB Pool Returns Calculator
Read more about our 17/18 performance and Season Starter Pool programs here:
The AWB Season Starter performance objective is to outperform the average of the best bid cash price across the marketing window. This chart illustrates Season Starter performance over the last four years on a national basis by taking an average of all portzones. This demonstrates that we have consistently achieved our performance benchmark.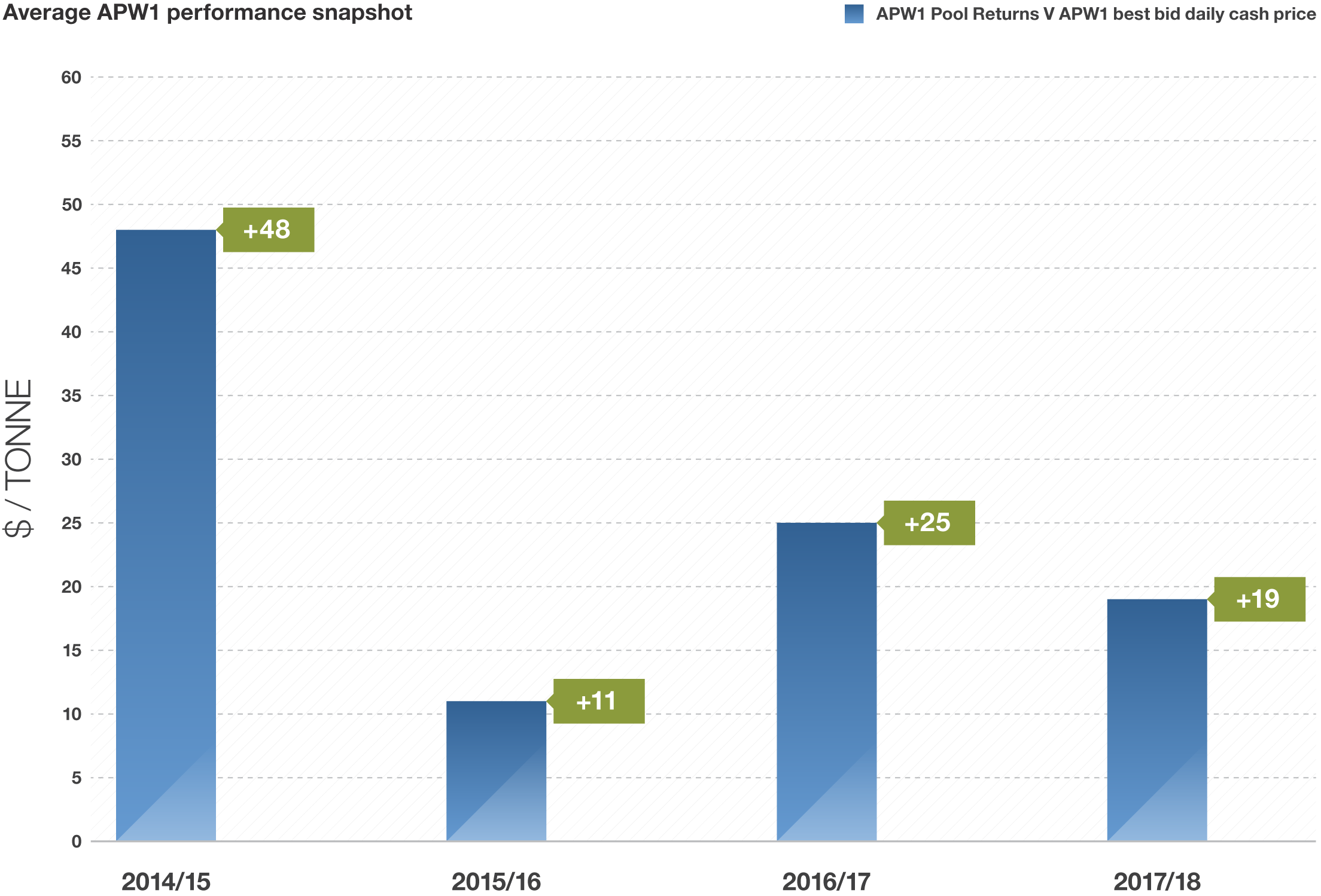 For each season, Season Starter performance is determined by comparing the final APW1 pool returns across all portzones as an average to the APW1 best bid daily cash price in each portzone over the Season Starter marketing window as an average. The Season Starter marketing window commences at contracting and runs through until pool finalisation. The APW1 best bid daily cash price is calculated by taking the Profarmer Port zone index price for APW1 each day and calculating an average APW1 best bid price across all portzones. The Profarmer Port Zone index is derived by taking the best bid at every up country site, adding the GTA location differential based on the natural terminal port to calculate a port equivalent best bid cash price, and takes an average of all the best bid prices. Values in the chart are rounded up or down to the nearest dollar. In WA, prior to September 2014, best bid cash prices represent prices for APW2 wheat. An individual grower's returns would be different from the final Average APW1 Season Starter Return (port zone) dependent on location, grade and finance option.
2018/19 AWB Season Starter Pool

Contracting into the 2018/19 Season Starter Pool is now closed.
2018/19 Season Starter Returns
Interest rate applicable to loan payment options - AWB variable interest rate 3.50%
2017/18 AWB Season Starter Pool
The 2017/18 AWB Season Starter Pool program has been finalised
2017/18 Season Starter Returns
Important pool information
Historical Season Starter Pool Information
2016/17 Season Starter Finalised Returns (Last updated 30 June 2017)
2015/16 Season Starter Finalised Returns (last updated 30 June 2016)
DISCLAIMER: There may be tax consequences for you in connection with the Products. This may include tax being payable on any scheduled payments made to you. The tax treatment and the year in which payments may be included in your income may vary depending on your specific circumstances. The information presented in relation to the Products does not constitute tax advice to you. It is very important that you seek professional financial and tax advice in relation to your particular circumstances.