Shared experiences with Lincoln Gerloff
AWB,
Spend a couple of minutes with grain grower Lincoln Gerloff who shares his experience on how he gets the most out of his farm business.
Where and what do you farm?
On the red soil flats of the Eastern Eyre Peninsula.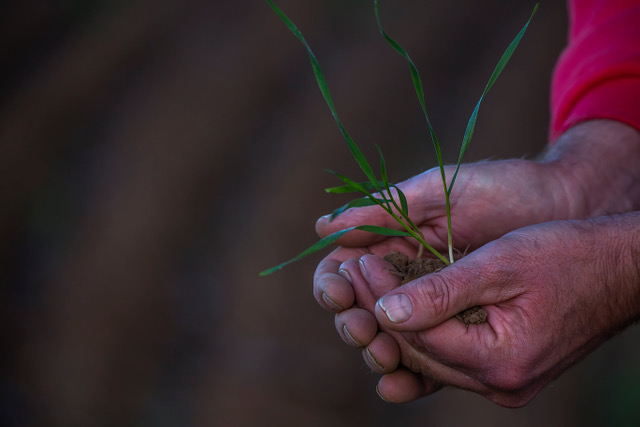 Why do you use pre-harvest payment products?
Unforeseen circumstances can mean your finances come up short at the end of the season, but with Production Advance and Season Starter we lock in some grain at a solid price and grab a bit of cash as well. It means I don't get into situations where I've exhausted my funds and can't do something that needs doing.
What do you use the extra cashflow for?
Last year I needed to spread some urea later in the growing season, but cash was very limited so I took the opportunity to use a $20,000 advance and put some urea out. They reckon 50kg of urea is worth about half a tonne of yield so it can be quite valuable if you get it on at the right time. The cash advance was money well spent.
What peace of mind do these products give you?
To know that I can access that money and not have to worry about going to the bank manager is a great thing. If you max out your overdraft and you've got eight weeks before income is going to start flowing again, instead of doing a heap more of paperwork you've already got Production Advance set up previously.
Why do you use marketing products like Season Starter?
I don't have to worry about what's going on in the wheat markets around the clock. We really need to pay attention to both the growing and the marketing of our product. If you don't do things properly these days then you don't make any money, margins are very tight so you have to get the best bang for your dollar where you can. They're in the game all the time so it makes sense for them to keep an eye on it for me.
How important is the marketing partner you choose?
In the deregulated market there's a lot of uncertainty and I don't want to have 500 tonne go missing and be left waiting for a cheque. With AWB you don't have to worry about your money.
What advice would you give to a young grain grower?
Tricky one – get it in and get it right, don't short cut it!
In the difficult times, don't cut corners, you need to do it properly. Dry seasons test you out, but if you're going to be in the game, you've got to be prepared to do things properly. Yield is king.
Varieties are helping today and our efficiencies are improving year in, year out.
How do you see this season unfolding?
Well, if we get a good rain in the next week or so, we could still get away with a little above average season. But who knows! Got to get it up and out of the ground as the main concern at the moment!
Stayed tuned as we continue to share insights and experiences over the coming few weeks.
For information or to register your interest for Season Starter please click here.
Originally published 19 June, 2018
For further information call the AWB Grower Service Centre - 1800 447 246
---