Ash and Will helping fire affected communities
Will Mason, who is the maintenance supervisor at Cargill's Footscray crush plant, and his partner Ash, were so inspired by the support given to farmers devastated by bushfire they knew there was only one thing to do. Get involved.
"When you see other people going above and beyond to give those people a hand who have been affected by bush fires, it's so inspiring and we just wanted to do our part to help."
Will and Ash have been trucking hay into areas affected by fire to support farmers in desperate need of feed for livestock.
"We have recently been to Orbost after the East Gippsland fires, in a Lions Club 'Need for Feed' convoy. There were hundreds of vehicles heading east, some to a feed depot and some directly to burnt out farms."
"Next week we are off to the North East with hay supplied by the support of Cargill. This load will be going to a Corryong dairy farm of five hundred cattle who have lost everything in the fires."
"We will be doing a third load, and hopefully more into bush fire affected areas in the near future, as there are many months to come of no grass."
"The days when we visit fire affected areas have been overwhelming. The convoy we were in heading to East Gippsland was a day I'll never forget. You could feel the sense of pride in the truck drivers and people involved, and driving through towns on our way to Orbost, the streets were filled of people waving, filming, clapping and some crying."
"Even with the devastating circumstances, the strong community spirt, and the smiles exchanged made it a good day. And the recipients of the hay were so grateful."
"When we arrived at the depot near Orbost there were many farmers from the area waiting eagerly with their tractors to help unload the trucks when they arrived."
Cargill Australia held an employee fundraiser to support Will and Ash in their efforts to help fire affected farmers.
Bushfire support from Cargill
Cargill has committed $200,000 to supporting regional fire brigades in Australia.
Managing Director of Cargill in Australia, Erik Wibholm, said Cargill was a proud member of many regional communities around Australia with a focus on serving our farmer customers with marketing and storage and handling facilities.
"We work closely with the local brigades and respect the work they do with the resources they have, and we wanted to support them in the work they do."
"We have had a lot of support from our Cargill colleagues, from right around the world, who are deeply concerned by the impact of the fires. The donation of $200,000 is made up of funds from our Australian community giving program and Cargill's global headquarters in the United States."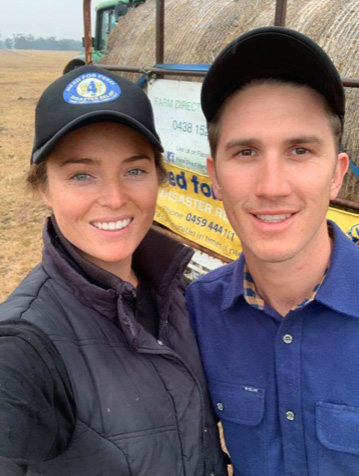 (Will and Ash have been trucking hay into areas affected by fire to support farmers in desperate need of feed for livestock)
---