GrainFlow team gear up for a big harvest at Dimboola
Under the new management team of Philip Sherwell and Wayne Madden, the Dimboola GrainFlow site is preparing for a big Wimmera harvest.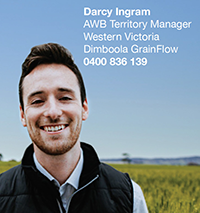 Darcy Ingram has started as the territory manager for AWB. Darcy is a former grain broker and has worked extensively with Wimmera and Western District growers and grain markets. Darcy is currently working out of the Dimboola site and will be based on site during harvest.
"We are anticipating a busy harvest at the Dimboola site," said Darcy.
"The market is very different this year to last year because of the big crop in New South Wales. The domestic demand for grain that was pulled out of Victoria last year is not the same this year and so the bulk of grain will find a home in export markets.
"With the Chinese market currently off limits for Australian barley, Saudi Arabia has emerged as a strong buyer, which is good for local barley producers. Saudi Arabia has traditionally been a buyer of grain for their livestock industry and their presence in the market this year is a positive sign.
"China continues to be a destination for Australian canola, as will the EU to feed the biodiesel market.
"China is also looking like a buyer of Australian wheat, with the stocks out of Russia and Europe slowing due to drier conditions in that part of the world. South East Asia is likely to be a buyer of high quality Australian wheat, and we are well positioned to be competitive in that market given our proximity and freight advantage.
"The strong export focus is a positive for the Dimboola GrainFlow site which has industry leading rail loading facilities, providing exporters with an efficient export supply pathway.
"Dimboola's rail advantages helps to attract interest from grain acquirers wanting to buy at our sites," he said.
"This is good for growers, as buyer depth gives them more options and more competition at site."
"Importantly, growers can still sell for cash over the weighbridge after they have received their sample results. We are again committing to two business day payment terms for all grain sold to AWB at GrainFlow sites.
"The Grower Delivery App (GDA) which was rolled out last harvest will again be operational. GDA provides benefits to growers in that it reduces paper work and provides automatic sample results which growers and carriers can automatically accept or request a retest.
"The GDA also helps the site with making operational decisions. Getting expected delivery information ahead of time, we can adjust our activities to help get trucks through site as quickly as possible. It also helps us planning our opening hours, making sure we are open and prepared for when growers are most wanting to deliver.
"Another benefit of the GDA is that it reduces the need for drivers to get out of their truck. They can get their grain sampled, receive the results and get the load weighed without leaving the vehicle.
This has an extra benefit this year in helping to manage our site for managing Coronavirus. It makes social distancing a lot easier, which helps to create a safer workplace for both customers and employees.
Growers are encouraged to keep up with opening times by registering to receive SMSs from the site. If hours are extended during peak periods we will let you know. If there is bad weather on the way, we will also notify when the site will close.
Growers are also able to receive daily prices from the Dimboola site to help determine if they want to sell their grain or warehouse it.
"Markets can move quickly and so it is best for growers to stay informed so that they can get the most out of their harvest this year," Darcy said.
---