How to lock in wheat basis prices at current levels
Understanding wheat basis prices is important for growers wishing to control the price they receive for their grain.
Basis is the difference between the physical grain price and the futures grain price. It can be traded to help lock in a price.
East coast basis levels for wheat are trading at near historical highs for a normal season, despite some softening following useful rainfall in the eastern states.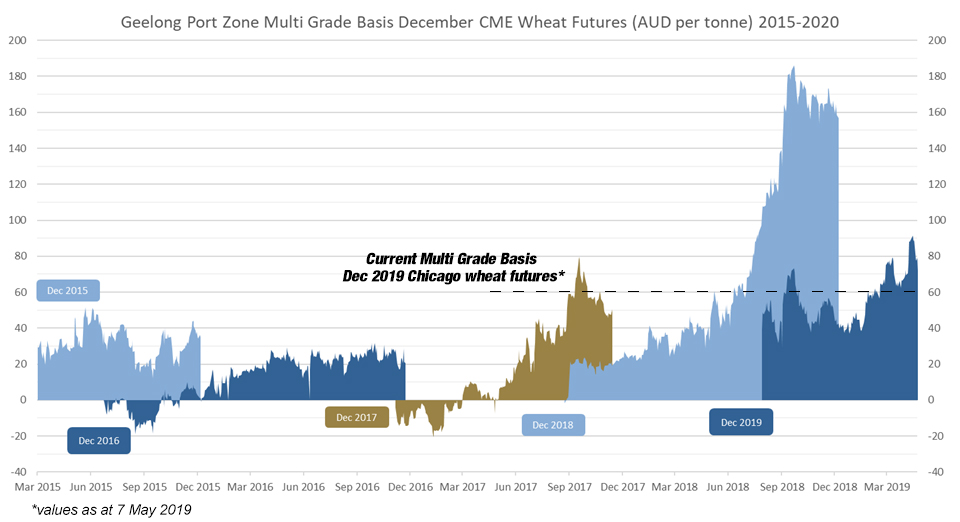 Strong basis prices are normally driven by the effects of drought and strong domestic demand. Weak basis prices are common with good rainfall and a good crop forecast. The current situation reflects elements of both of these factors.
So how can growers make the most of the strong basis prices?
For those that have previously locked in a futures price with a risk management product like Basis Plus, or a Swap, you could consider locking in the basis component of these contracts. Alternatively, if you are getting ready to make some forward sales, you could fix the basis component of your price now and look for opportunities to fix futures at a later time with Basis PLUS or add the certainty of a futures floor with Pacer Ultra.
We provide regular updates to growers on basis and futures prices, movements, trends and opportunities. If you would like to register for these updates, please contact our Growers Service Centre on 1800 447 246.
Learn more about Basis PLUS here
Learn more about Pacer Ultra here
This article is general in nature and does not take into account your objectives, financial situation or needs. It is important for you to consider these matters and read the Product Disclosure Statement (PDS), any updated PDS, the Financial Services Guide and any general and special terms and conditions that may apply to Basis PLUS or Pacer Ultra® before you decide to acquire the product. You can get a copy of the PDS by calling 1800 659 944 or requesting a copy of the PDS here.
Basis PLUS and Pacer Ultra® are issued by Cargill Australia Limited ABN 42 004 684 173, Corporate Authorised Representative 410006 of Cargill Australia Financial Services Pty Limited ABN 24 103 594 823, AFSL 393967 (trading as AWB, "AWB").
---