New Free Trade Agreement with Asian countries a positive for Australian Ag
On the 15th of November, 15 countries signed the world's largest free trade agreement called the Regional Comprehensive Economic Partnership.
As a free trading country with few agricultural subsidies, RCEP is a positive for Australian agriculture.
The RCEP free trade agreement covers China, Japan, South Korea, Australia, New Zealand and 10-member ASEAN bloc including Brunei, Cambodia, Indonesia, Laos, Malaysia, Myanmar, the Philippines, Singapore, Thailand and Vietnam. These countries are important importers of Australian grains and oilseeds.
ASEAN initiated RCEP in 2012 and invited China, Japan, South Korea, Australia, New Zealand and India. India withdrew last year.
Like other FTAs, RCEP has all the usual chapters — tariffs, customs administration, sanitary measures, services, investment as well as others.
Benefits will not be immediate. RCEP will take effect after at least six ASEAN countries and three non-ASEAN countries ratify it so it takes some time before the deal is effective.
The chart below from Bloomberg is an easy reference showing how large it is. It also covers about 29% of global trade and about 32% of global investments.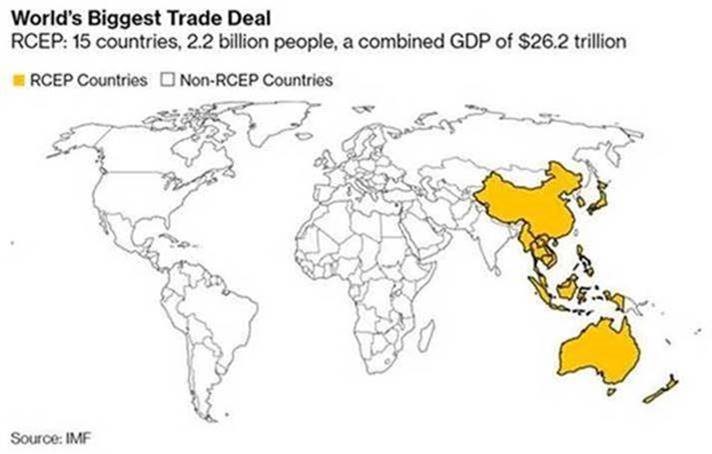 ---