Delivery information
Delivering to AWB is a simple process. You may nominate an AWB contract at the weighbridge if you have one, choose an AWB product if this option is available, or warehouse your delivery and transfer your grain and oilseeds via the storage operators on-line portal at a later date.

AWB Delivery Codes
The following delivery codes apply for deliveries to AWB. To ensure that your deliveries are processed efficiently, it is important that you quote the correct AWB acquirer code.
For all AWB Cash Contracts: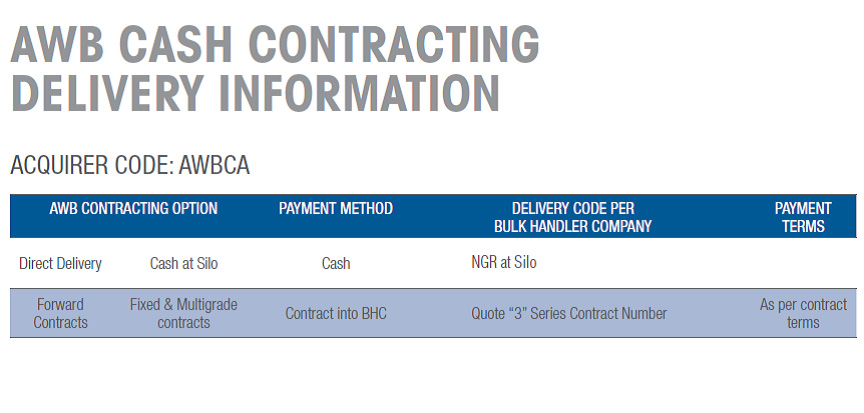 Cargill Crush Plant Delivery Information
Any loads being delivered to the crush plants at Newcastle or Footscray will require a Grower Varietal Declaration. Please find the declaration forms and delivery instructions for each delivery location in the table below.
If you are delivering VICTORY® canola, a further VICTORY® Varietal Declaration form is required. Please see the VICTORY® page for more information.
Please talk to your AWB representative if you are unsure of the correct declaration required.
| Footscray Crush Plant | Newcastle Crush Plant |
| --- | --- |
| | |
GROWER TIP: Print out several copies and include your contract number on all the forms before harvest!
Important delivery information
Important delivery information

National Grower Registration

You will need your National Grower Registration (NGR) details when delivering to AWB.

To obtain additional NGR cards, replace lost cards or update your contact details (including banking details) contact NGR directly on 1800 556 630.

ShareFarm Deliveries

When delivering on behalf of a sharefarm it is important to note that only one marketing option can be selected. This includes deliveries to warehouse, cash at silo and AWB Pool deliveries.
If sharefarm parties wish to market their grain separately you are required to split your load at point of delivery. Each load will have to be split to each individual's NGR Number according to the sharefarm percentage split.

Warehousing

Warehousing provides you with the choice of safely storing your grain without the pressure of having to make a marketing decision at delivery. Grain can be transferred from warehousing to all AWB Pool contracts or onto AWB Cash contracts.

Note: If you are delivering to a GrainFlow site you can transfer grain out of Warehousing to a cash price offered at the site on the same day of delivery.

Availability of bin grades and delivery sites
AWB is not responsible for managing delivery sites, commodities and bin grades. It is your responsibly to check that commodities, bin grades and varieties will be accepted for delivery in a delivery site. You can do this by calling the storage operator.

Commodities and bin grades accepted at each delivery site may change without notice during harvest. AWB therefore recommends that you regularly check the service availability with the storage operator who manages the delivery site.

GrainFlow deliveries

You can access all information about delivering into a GrainFlow delivery site by visiting the GrainFlow website.
If you are having trouble contacting a storage operator, please contact the AWB Grower Service Centre on 1800 447 246 and we will work to assist you.